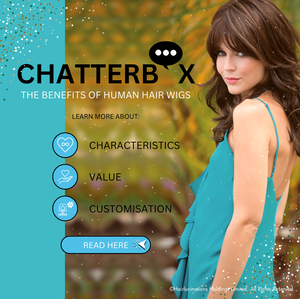 BENEFITS OF HUMAN HAIR WIGS
When it comes to choosing a wig, the options can be overwhelming. However, one type of wig stands out for its unmatched quality and versatility: human hair wigs. Made from real human hair, these wigs offer numerous benefits that set them apart from synthetic alternatives. In this blog, we will explore the advantages of investing in high-quality human hair wigs and why they are worth considering for anyone seeking a natural and authentic look.
NATURAL & REALISTIC APPEARANCE 
One of the most significant advantages of human hair wigs is their ability to mimic natural hair effortlessly. Unlike synthetic wigs, human hair wigs have a realistic texture, shine, and movement that closely resembles natural hair. The strands can be styled, curled, or straightened to suit your desired look, ensuring a seamless and undetectable result.
SUPERIOR QUALITY & LONGEVITY
Human hair wigs are known for their exceptional quality and durability. The use of real human hair means that these wigs can withstand regular washing, styling, and heat without losing their integrity. With proper care, a high-quality human hair wig can last significantly longer than synthetic wigs, making it a wise investment in the long run.
VERSATILITY IN STYLING OPTIONS 
With human hair wigs, you have the freedom to experiment with various hairstyles. You can use hot styling tools, such as curling irons or straighteners, to create different looks without worrying about damaging the hair. Whether you prefer sleek and straight or voluminous curls, human hair wigs can be styled to match your personal taste and current trends.
CUSTOMISATION & PERSONALISATION
Human hair wigs offer the advantage of customisation. Professional stylists can tailor the wig to fit your head shape and size, ensuring a secure and comfortable fit. Additionally, human hair wigs often come with lace fronts or hand-tied caps, allowing for a natural-looking hairline and the ability to part the hair in various ways.
BREATHABILITY & COMFORT
Thanks to their construction and the use of natural materials, human hair wigs offer enhanced breathability, making them more comfortable to wear for extended periods. The lightweight and airy design prevent excess heat and moisture buildup, reducing discomfort and promoting a pleasant wearing experience.
SEAMLESS INTEGRATION
If you still have some natural hair, human hair wigs can seamlessly blend with your existing hair, creating a seamless and natural look. Whether you want to add volume or length or cover areas of thinning hair, human hair wigs offer a versatile solution that integrates effortlessly with your natural locks.
TO CONCLUDE
Investing in a high-quality human hair wig offers numerous benefits, including a natural appearance, superior quality, styling versatility, customisation options, comfort, and seamless integration with your natural hair. While the initial cost may be higher than synthetic wigs, the longevity and authentic look make human hair wigs a worthwhile investment. At our online wig shop, we offer a wide selection of premium human hair wigs that will help you achieve the stunning and natural look you desire. Don't settle for anything less than the best—choose human hair wigs at Hairlucinations Wigs for unmatched quality and style.
---