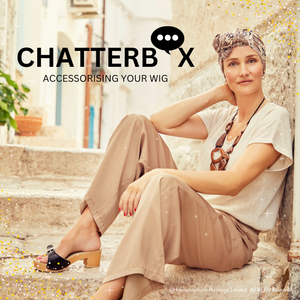 ACCESSORISING YOUR WIG
ㅤ
Wigs have become a fashion staple, allowing us to experiment with various hairstyles effortlessly. But why stop at just the wig itself when you can take your look to the next level with stylish accessories? Wig accessories are the secret ingredient to transforming your wig from ordinary to extraordinary. In this blog post, we'll explore the wonderful world of wig accessories and share some creative ways to accessorise your wigs like a pro.
HEADBANDS
Headbands are a versatile and chic accessory that can instantly elevate your wig style. Whether you prefer a classic, boho, or trendy look, headbands come in a wide range of designs to suit your style. Opt for a bejewelled headband to add glamour to your evening ensemble or a floral headband for a whimsical, festival-inspired vibe. Experiment with different placements, such as wearing the headband across the forehead or as a traditional headband for a touch of elegance.
SCARVES
Scarves are fabulous accessories that can add a pop of colour and personality to your wig. You can tie a vibrant silk scarf around your wig to create a retro-inspired look or go for a patterned scarf to add a playful touch. The versatility of scarves allows you to experiment with various tying techniques like the turban style, the bow, or the head-wrap. Embrace your creativity and let the scarf become an extension of your personal style.

CLIPS & BARRETTES
Enhance your wig's style by adding clips and barrettes strategically. These accessories not only hold your wig securely in place but also serve as stylish accents. Sparkling rhinestone clips can add a touch of glamour to an elegant updo, while whimsical butterfly-shaped barrettes can inject a dose of fun into your everyday wig look. Experiment with different placement options like side clips or a half-up hairstyle to find the perfect balance of functionality and fashion.
HAIR JEWELLERY
For a truly enchanting look, consider adorning your wig with hair jewellery. Delicate chains, decorative pins, and gemstone accessories can add a touch of ethereal beauty to your wig. Drape a chain across a sleek ponytail or use jewelled hairpins to secure loose waves. Hair jewellery allows you to express your unique style and infuse your wig with a touch of luxury and sophistication.
HATS & BEANIES
Don't limit yourself to just wig-specific accessories; explore the world of hats and beanies to give your wig a trendy twist. Fedora hats, wide-brimmed sun hats, and cozy beanies can effortlessly complement your wig, adding a layer of style and practicality. Play with different hat styles to create a striking contrast or a harmonious blend with your wig. The options are endless, from casual streetwear to sophisticated elegance.
TO CONCLUDE
Wig accessories have the power to transform your wig into a true fashion statement. Whether you opt for headbands, scarves, clips, hair jewellery, or hats and beanies, these accessories allow you to express your unique style and enhance the versatility of your wig collection. Embrace your creativity, experiment with different looks, and have fun accessorising your wigs. Unleash the power of wig accessories and take your wig game to new heights!
Remember, wig accessories are the perfect opportunity to showcase your personality and create head-turning looks. So, don't be afraid to mix and match, try new styles, and let your creativity soar. Elevate your wig game and unlock a world of endless possibilities!
Disclaimer: When using wig accessories, ensure they do not cause discomfort or damage to your wig. Always follow the manufacturer's guidelines for wig care and maintenance.
---